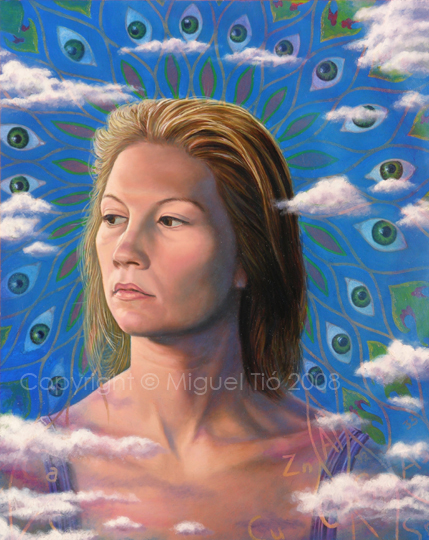 "Krisztina Lazar"
Oil, egg tempera on masonite
Mische Technique
16" x 20", 2007
I drove from New York to Williamsport with Brigid Marlin and Olga Spiegel on June the 20th for the exhibition at the Pennsylvania Collage of Technology "Where Science Meets Art". Krisztina Lazar came in with her family from Cleveland and joined us later on that day. We stayed for four days at the Victorian House, a B&B on campus that was designed and built by the students from the architecture and construction schools of the college.
The first day Brigid suggested that since we had the time, we should get together every day to paint; we all agreed and loved the idea. We went to buy art supplies at the college and Krisztina served as the model. Here is a link to some photos: Link
This is the portrait of Krisztina that I started at the Victorian House where I incorporated on the background elements from her paintings.
Kristina Lazar is a young artist and member of the Society for Art of Imagination and her work is powerful and charged with spirituality. But a better way to define her work is this quote from her statement: "I depict my journey, referencing archetypes, spiritual symbolism, my own meditation and vision imagery in an effort to expand beyond myself and to touch the universal elements that exist within all of us." Here is a link to her website: Link
Copyright © by Miguel Tió