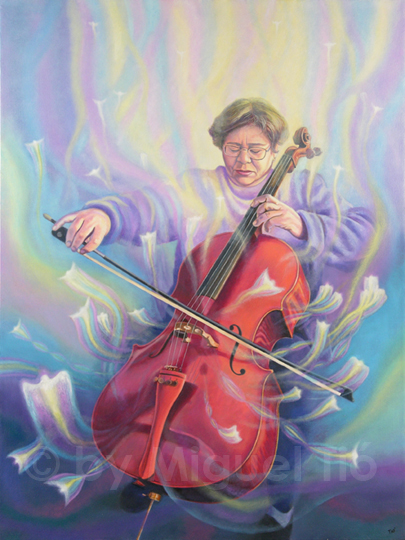 "The cellist"
Oil on canvas, 30" x 40", 2006
Click on the picture to see a large size
Salut D`Amour
Two musicians, a cellist and a pianist, were preparing to play their instruments in a high school gymnasium, patiently waiting for the chorus of the school to finish singing. There were crowds of teenage students in the gym that were so noisy that the chorus of singers could not be heard. Though you wouldn't expect a room full of children and teenagers to be the most attentive listeners anyway.
The chorus finished and it was time for the cellist and the pianist to play. Though smiling, the cellist doubtfully remarked to the pianist, "do you think anybody is going to listen to us?" With a similar smile of understanding, the pianist replied, "I don't think so."
They began playing the Salut D`Amour by Edward Elgar.
As they played, they became so immersed in their music that they completely forgot about the crowds of noisy teenagers.
Upon finishing their song they came to a stunning realization that the gymnasium had become completely silent. There was a palatable stillness that could be felt for several seconds.
The unexpected silence was broken by an even greater unexpected moment as the crowd erupted into a euphoric standing ovation. A teacher who was in the gym came forward with tears in her eyes to congratulate the surprised musicians.
The cellist and the pianist understood and cherished how unique and precious the moment was. Their music had touched and inspired the souls of an unexpected audience.
---
I wanted to tell this story not only because it is true and inspiring, but also because the cellist in the story is my sister Nereyda. Nereyda's story was the inspiration behind the creation of her portrait.
My sister was the first female classical guitarist to graduate from the "Conservatorio Nacional" of the Dominican Republic. Years later she would progress to the cello because it afforded her greater opportunities to play with orchestras.
I wanted to paint her portrait for a long time. I know that music is for her what painting is for me. Although Nereyda had played in many places, this particular story she shared with me had sparked my creativity, and an image began to take form in my mind of how I would paint her picture.
Since we live in different cities, it was difficult to get her to pose. On the few occasions that we saw each other in the last few years it was hard to find the time.
When I visited her and my niece last Christmas in Elgin, Illinois where they live, I decided I would take reference photographs and create the necessary drawings for the painting.
We waited for a sunny winter morning and agreed to start working at 8:00 AM because that is when the sunlight filters into the front room of her house. I asked her to play and to forget that I was in the room…
Copyright © by Miguel Tió