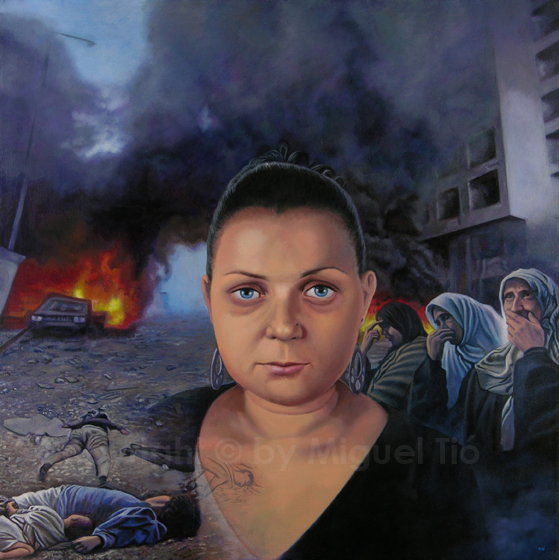 "Homage to Layal Nagib"
Oil on canvas, 36" x 36", 2006
This is a painting for which I had a very strong call.
A Lebanese photographer friend from Deviant Art wrote on his journal on the day of his birthday: "Lebanon is being destroyed, my friend died but it's still my birthday".
When I follow the link that he placed to his friend's dead I was surprised to find out that it was in all international news…
Photographer killed in air strike
Published: Monday, 24 July, 2006, 11:39 AM Doha Time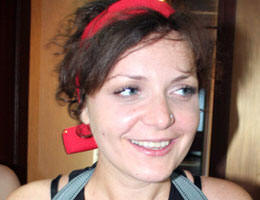 TYRE: A Lebanese freelance photographer was killed yesterday in an Israeli air strike on southern Lebanon, the taxi driver accompanying her and hospital sources said.
Layal Nagib, 23, was killed when a missile struck next to the taxi on the road between the villages of Siddiqine and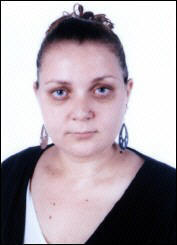 Qana, they said.
Nagib worked at Al-Jaras (The Bell) magazine and was also a freelance photographer for several other news outlets.
"I took her from the Cola neighborhood in Beirut, she wanted to go down south. She took pictures of the Israeli bombardments," taxi driver Hussein Abada said.
"We were driving between (the villages of) Siddiqine and Qana when a missile fell near the car, on her side," he said.
"She did not speak, she was killed on the spot. I carried her out of the car and laid her under a tree. A Red Cross car came by and took her to hospital" in the southern port city of Tyre, he said.
Nagib was carrying a professional camera as well as an identity card and a press card showing that she worked for Al-Jaras, a correspondent at the scene said.
Homage to Layal Nagib has been exhibited:
2008 - "JAALA 2008 Exhibition", The Metropolitan Museum of Art. Tokyo, Japan
2007 - "In This Life", Reflections on War & Politics, Museum of Contemporary Art (MOCA), Fort Collins, Colorado
2006 - "Unseen Sides", Gallerie Icosahedron, New York City
Publications:
2007 - Loveland Reporter-Herald - Art of war By Cara O'Brien, October 5, 2007
2006 - Catalog of "Unseen Sides", Gallerie Icosahedron, New York City.
Copyright © 2006 by Miguel Tió