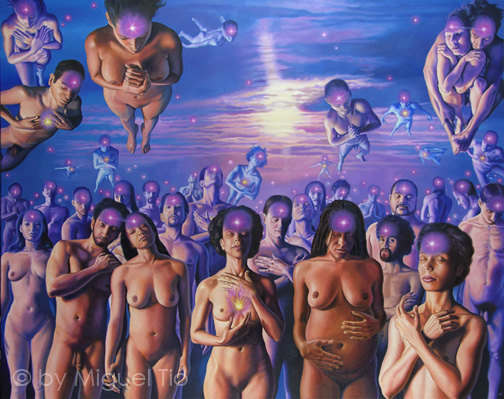 "Peace...Peace...Peace..."
Oil on canvas, 68" x 54", 2005
To see a larger size click on the picture
June 2005
For this painting which I started last year, I worked with 14 different models who posed for the all the figures that are portrayed in it. I wanted to use a view of a sunset as a background for this work and for quite a few times I rode my bike to the Hudson River in the late afternoon waiting for that sunset to appear… but it never seemed to show up. Last summer while I was visiting my sister in Illinois, it suddenly appeared right in front of me when we were driving back from Madison to Chicago. I urged my sister who was driving the car to make a stop on the side of the road. I took some photographs and for the rest of the trip she kept on stopping trying to find good spots so I could continue taking pictures…that went on until the sun disappeared on the horizon.
This painting is about the power of thought; all people joined together in one single brain wave decreeing inside their heart and soul…Peace…Peace…Peace.
I believe in the existence of a myriad of beings whose souls are like light houses; their thoughts carrying out the light that travels the Earth becoming ever stronger with the meeting of each new light that converges in the same vibration. This power is available to all of us to use in making this world a better place.
I hope you can sense that power too when you look at this painting.
Peace…Peace…Peace
Miguel