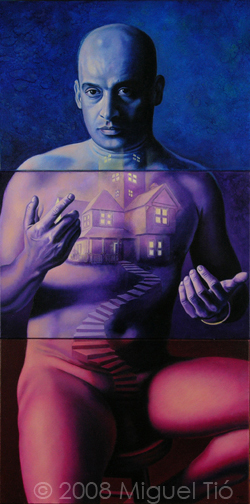 "Carlos"
Oil on canvas, 24" x 48", 2005
Not available for sale
Click on the picture to see a large size
I love painting portraits that represent not only the physical appearances of my subjects but also their interior states. I love it even more when the person has a very particular personality and is also a close friend because it makes it easier for me to complete the task; which is the case of this portrait of my friend Carlos Ortiz. He is a talented painter and a great Interior Designer who has such a strong personality that always reminds me of one of those characters from a Gabriel Garcia Marquez's novel.
Carlos once told me that from all my works the ones that he enjoys the most are the portraits and also personally knows most of the people that I have portrayed in the last years. I told him that I was going to do his portrait also and he expressed to me that he was honored by that. After a few months I called him and told him that I finally had the idea for his portrait and that I needed him to pose. He came to my studio wearing these nice clothes for the painting and when I told him that he didn't need them because he had to be nude in it; he was surprised and responded: "You should have told me that I was going to be naked! But immediately he added: Oh well, I know that whatever is your idea for this portrait is going to be great."
I hope he will still think the same way after looking at his portrait.
Carlos Ortiz's works can be seen at: www.cortizdesign.com
Copyright © by Miguel Tió